The Industry-Shaping Edition
This month we're calling on members to connect with their industry and help make positive change - in three different ways! You might want to speak at our Summer Seminar 2024 to inform and inspire others. Or, you could take part in the FIA's #biginstallreview to help us resolve issues in the FTTX industry and share your views as part of an IEC consultation about laser safety.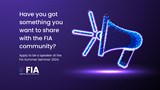 'Inspirational' and 'mindblowing'
SUMMER SEMINAR 2023
Every year, delegates at our seminar comment on the quality of talks and presentations and how much they have learned. If you've got something to share that will interest our members, get in touch. Whether its a success story, an innovation or highlighting an industry issue, if there's a topic you'd like to talk about, email secretariat@fia-online.co.uk. The seminar will take place on June 19 & 20 at Whittlebury Park in Northants.
New members
WELCOME TO THE COMMUNITY
Dates for your diary
COMING UP
5 December 2023
FIA AGM - Venue TBC
19 & 20 June, 2024
Summer Seminar, Whittlebury Hall, Northants
We'd love to hear your stories!
If you've got some good news you'd like to share with other members on our website or on social media, send us a message on any of our platforms or email jess@fia-online.co.uk.