The Coolest Name in the Business
MEMBER SPOTLIGHT: Blow & Go Fibre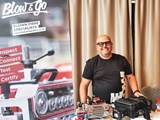 Setting standards with some very cool numbers
At this year's Summer Seminar, Blow & Go's Director confidently described his company as having 'the coolest name in the fibre optic industry' and nobody disagreed. 
And, after giving away a haul of coveted branded trucker hats and generously sponsoring the bar-tab for the event, Blow & Go Fibre certainly lived up to its brand. 
But this highly expereinced team of fibre optic engineers are not just  swagger with no substance - they are a fully equipped mobile crew ready to handle any type of fibre installation project, anywhere in the country.
As the website states, Blow & Go, who are FIA Corporate Members, are blown fibre specialists who carry out installation, consultation and repair work and are committed to delivering the very highest of standards. To date, Darren and team have blown 2950 km of fibre, ploughed 1755 km of ducting, completed 32 fibre installation projects and 100% of them are OTDR tested. Very cool indeed!
Nominate a company or individual for the spotlight
GET IN TOUCH IF YOU THINK THERE'S A MEMBER WE NEED TO HIGHLIGHT
We'll put an FIA member under the spot-light every month, so let us know if you'd like us to focus on your company or somebody you know. Just email secretariat@fia-online.co.uk