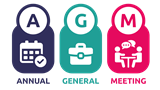 Confirm your place at the FIA AGM
REGISTER BY NOVEMBER 20
Join us at Tuesday, December 5 at 12pm for the AGM followed by a pub lunch at The Kirklands Hotel, 605 Leeds Road, Outwood, Wakefield,WF1 2LU.
The AGM is open to all current FIA members, although only corporate members are eligible to vote. Click here to register your attendance for the meeting and the lunch by Monday, November 20. Please note, all lunch places need to be booked in advance. Click here to find the AGM agenda and forms of proxy and council member nomination.
An opportunity to shape the future of the industry

We're looking for new council members
AGM: COUNCIL ELECTIONS
This year, there are two vacancies on the FIA Council. The first is to replace Alan Bullen, who has resigned, and the second is due to rotation rules, which requires Nigel Hedges to stand down (although he is willing and eligible to be re-elected).
FIA Articles of Association allow for 10 Council members. Click here to read more about the current councillors and the rules and requirements. 
It's essential for the FIA to have a strong council and council membership is truly a chance to help shape the future of industry. So, if you or someone you know is be able to give time and effort for the benefit of the Association and its members, please submit a nomination. All nominees should:
Be willing to attend 5-6 zoom meetings a year
Be a FIA Corporate member
Have signed the nomination form to indicate their acceptance of the nomination to stand as a council member.
Nomination forms and a full list of eligible members can be found with the AGM agenda in the AGM Notice.
We'd love to hear your stories!
If you've got some good news you'd like to share with other members on our website or on social media, send us a message on any of our platforms or email jess@fia-online.co.uk.